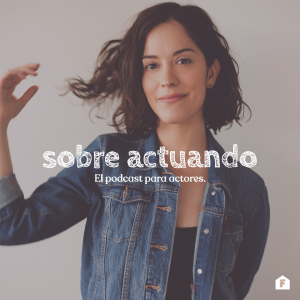 ¡Presentando un nuevo podcast!
En Sobre Actuando, el podcast para actores, Sofía entrevista a actores y a otros profesionales del entretenimiento sobre sus experiencias en el medio y su camino hacia la actuación. Espera que a través de sus historias, obtengamos herramientas para aprender a manejar nuestras carreras de manera más efectiva y tener una larga vida en las artes. Un podcast sobre actores, para actores, buscando apoyarnos para contribuir a un ambiente positivo y de compañerismo.
Presenting a new podcast!
In the Spanish-speaking podcast: Sobre Actuando, el podcast para actores, Sofia interviews actors and other entertainment professionals about their experiences in the business and their path to acting. She hopes that through their stories, we will obtain tools to learn to manage out careers in a more effective way and work towards a long life in the arts. A podcast for actors, by actors, looking to support each other to contribute to a positive and collaborative atmosphere.